: : offer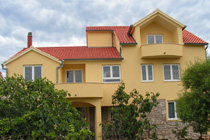 The apartments are located at the seaside (20m from the sea), and surrounded with a lot of Mediterranean plants - olives, figs, almonds, lavender and rosemary. To make your stay more comfortable here are: safe car park, grill, swings for kids and garden seats. The nearest beach, chemist's, restaurant, bank and shopping center are about 200 m away.
: : how to reach us:
- BY CAR - from the main cost road, about 5km after PIROVAC turn right to the island MURTER. Drive along the main road to the place TISNO. In Tisno you have to cross the bridge and turn to the right, then follow the signs for Murter. After entering Murter follow the map.

- BY SHIP - ferry from Ancona (Italy) - Split (Croatia). Split-Murter, by bus.

- BY PLANE - airport Split (100 km) or airport Zadar (75 km).

- BY TRAIN - Zagreb-Šibenik . Šibenik - Murter, by bus.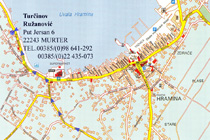 : : contact

Put Jersan 6
22243 MURTER
CROATIA

telefon/fax:
+385 (0)22 435 073

e-mail: melina.turcinov@zg.htnet.hr

For all information about reservation and prices please contact us on above mentioned e-mail address or phone number.

: : about Murter

MURTER is a little fishing place (2000 inhabitants). It is located on the island of Murter, between Zadar (about 50km) and Šibenik (about 30km).

Here are the marina, shopping center, infirmary, dentist's, chemist's, bank and three cash machines, post, some diving centers (school and equipment renting), rent a boot service, and cars and ships services.
There are three beaches and thanks to its good position you can find your own place for swimming along the whole cost and on the islands in front of Murter.

Not far away, there are two National parks: Kornati and Krka.
From Murter you have daily excursions with ships to both national parks.